:: Overview
What is Visual-tm?
Our Visual-tm (Peter Davidson's Visual Transport Modeller) software is an integrated modelling workbench designed by transport planners for:
Modelling major conurbation transport
Interurban highways and railways
Major/ minor highway scheme appraisal
Heavy/ light rail, revenue, funding, appraisal
Major Scheme Bid design and appraisal
Transport strategy
Local transport plans
Setting and monitoring APR targets
For use by Government, Local Authorities, transport operators, consultants, research and funding agencies worldwide.
Why is Visual-tm so easy to use?
No problems presenting data to Visual-tm - it's all in simple spreadsheets.
You get top quality tools in a fully integrated Windows environment. It's intuitive - simply point and click:
All controlled from simple screens with default parameters and options - so easy to change:
Display results on a map, output directly to spreadsheets or graphs or straight to your GIS.
No waiting overnight for your results - it's fast, very fast.
How does it make my modellers more efficient?
It is quicker to learn the software
Quick to set up, get round, run your models
It's not modular - so there's no connecting up
Just connect distribution, mode choice and assignment - your way - with complete control
Distribution, mode choice, assignment are packed with functionality to save you time
Automatic calibration, spreadsheet validation
Completely checkable - it's certainly not a black box
It all connects with your back-end processes (eg spreadsheets, monitoring, GIS)
Design junctions directly in Arcady2/ Picady2/ Oscady2 and test your designs in your model.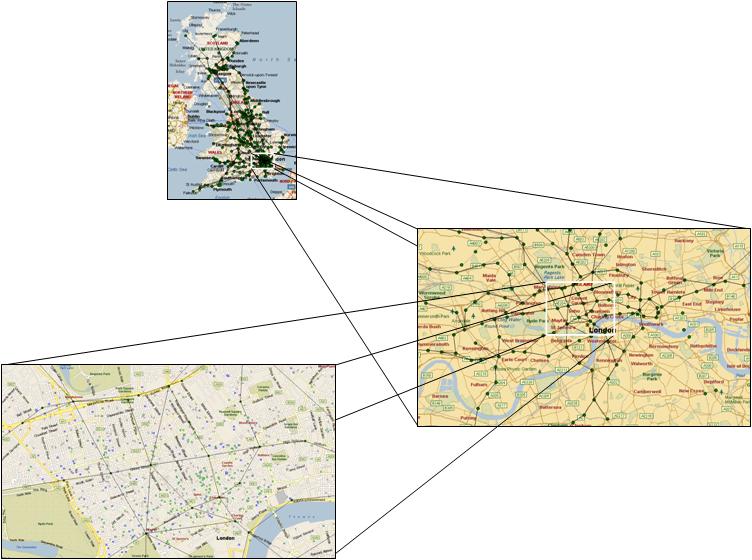 What's new in Version 4 2007?
Air pollution and accident sub-model
Identifying the impact of transport schemes on emissions and accident levels is a key component of any appraisal.
You may need to plan how to reduce CO2 emissions, where you can improve air quality or what scope there is for reducing accidents either now or in the future.
Our new Environment Model takes your assignment outputs and lets you forecast:
Air Quality
Pollutants
Accidents
Fuel costs
Link Performance
All linked to your LTP and APR targets so you can see the effect of your LTP on air quality etc.
Activity Based Parking Model
As congestion in urban areas increases, a travellers choice of car park becomes an important component of the travellers decision making process. This choice will be based on many factors including:
Where is there an available space
Does my work location have its own car park
The entire cost of the journey including the walk from the car park to the ultimate destination, the cost of parking, the delay associated with parking etc.
Visual-tm's parking model component allows you to test different parking strategies, monitor and forecast your revenue, identify shortfalls or over supply of spaces, look at car park usage throughout the day and feedback this information into your multimodal model to identify the impact on mode and destination choice etc.
Programming Model Objects
Program your own four-stage transport model - like this:
What Sub-Models can I Build with?
All the models you need - and more - and they fit together properly:
Distribution: Furness, Absolute Gravity Model, Incremental Gravity Model, Factoring
Mode choice: Simple calculators, single O-D pair, Matrix Logit, Sample Enumeration, Prototypical Sample Enumeration, Activity based model
Assignment: Highway and PT, Single Path, Multi path, junction delay, PT interchange modelling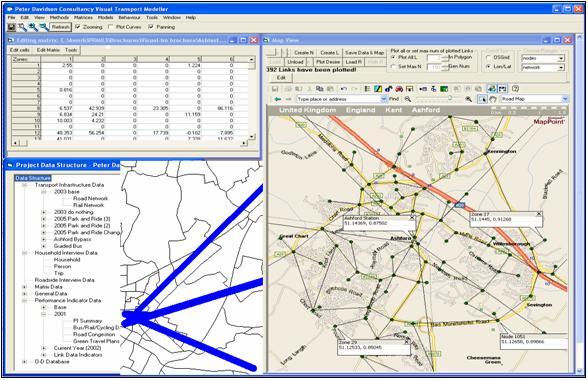 How Can I fit My Models Together?
You can use already-built multi-mode four stage models or build your own:
Two Mode Four Stage
Multi Mode Four Stage
Build your own Model with Macros
Program Your Own Model Objects (see above)
What other features do I get?
All the basic tools:
Matrix Viewer
Matrix Manipulation Tools
OD Data Processing
Polygon Editing
Network converters
Interactive Network Generation
Desire Line Plotting

Plus some more advanced features:
Transport Database
Parking and Park & Ride
Performance Indicator Monitoring
Accessibility Planning
Highway Junction Delay
Public Transport Crowding
Public Transport Interchange Simulation
Time of Day Assignment

Flexible Model Structures
Visual-tm is Tried, Tested and Proven To Deliver
Peter has been developing other people's transport modelling software since 1976. In 1988 he started Peter Davidson Consultancy for transport planning, railways, research and software. In 1991 he started Visual-tm software development with ERICA followed by networks, mode choice, stated preference and tools, with the distribution model being added in 2000. During this period it was used for dozens of projects including major schemes, highway models, LTPs, toll roads, airport access, new air services, freight and transport strategies.
From 2001 to 2003 it was completely re-engineered, re-written and re-tested. In 2004, we re-branded it as Visual-tm (short for Peter Davidson's Visual Transport Modeller) and re-launched it in May 2004 with version 2 (2005), version 3 (2006) and now version 4 in June 2007. It has continued to deliver successful projects ever since.
In the past year, Visual-tm has been tried and tested on the following major projects: Ashford masterplan, Gloucestershire Regional Spatial Strategy, Truro major scheme bid, Cheshire County Model Building.
The Rest of the Toolkit
Visual-tm comes with a complete set of tools for all those additional tasks such as matrix estimation, zone polygon editing, sophisticated roadside interview expansion so that expansion factors give useful variances, postcode address file to geo-code your surveys, dataviewer to connect your model to your LTP/ APR targets, the mode choice calculators for quick prediction of switch from car to park and ride, cycle or walk, origin-destination database fully integrated with DfT's ERICA5 matrix builder.
Why does Visual Transport Modeller Come in Different Editions?
Different types of user require different functionality. Visual transport modeller therefore comes in a number of editions, each aimed at a different type of user:
Visual Transport Modeller: Academic Edition
Some people want to try the software out before making a possible purchase, some may want it for teaching purposes and others may be just curious as to what transport modelling is all about. The free Academic Edition is aimed at these types of people.
Visual Transport Modeller: Professional Edition
We think that there are some transport modellers who want their own transport modelling software. They may want to develop transport models for their own purposes and can't afford the price of currently available commercial software. There may be people who could want it for a medium sized problem eg a town, city, corridor or region where there is not the data to support a large model. They may be not considering doing a model because it takes too much time/ data or because the size of the problem does not warrant a 'big' model. They may be considering doing something simple on paper or with a spreadsheet. Instead we may tempt them to considering implementing a simple transport model using Visual-tm's rapid model development capability. The Professional Edition is aimed at these types of people.
Visual Transport Modeller: Corporate Edition
If Local Authorities, Regional or National Governments have a model, they can keep it up-to-date without having a complete rebuild every 10 years or so. The model could grow as the need arose for greater detail, more market segmentation, as new types of transport solutions come along and as more is known about transport in their area. This will help them devise better solutions. If they monitor transport, it will help them monitor better and allow the results from their monitor to feed through to their transport planning to make it better still. These types of user may have a large problem size and may want other specialist tools. With Visual-tm they also have a superb way of retaining their transport data in an encapsulated transport database as a permanent resource for the future. This will enable them to develop progressively better transport plans (with or without a model). If they don't have a model and do not want to develop one, they could run tables and queries to get the transport statistics they need.
These types of user may wish to use disaggregate models to bring into their forecasts better models of behaviour (eg for road pricing, responses to congestion, peak spreading, park and ride and other more sustainable transport modes). These people may also need to monitor the green travel plans in their area with pd-Green. The Commercial Edition is aimed at these types of user.
Visual-tm works with ERICA5 for building matrices. Purchasers of the Corporate Edition may also wish to purchase ERICA5 and MapPoint Europe/North America. There is also additional capability for processing addresses and turning them into postcodes or grid references.
Visual Transport Modeller: ERICA5 Edition
This is aimed at people who want the specialist database functionality provided by ERICA5 and who do not require the full functionality of all the transport models. The Academic Edition is included with it.
Visual Transport Modeller: Accessibility Edition
This is aimed at people who want the specialist accessibility functionality provided by Visual-tm and who do not require the full functionality of all the other transport models. The Academic Edition is included with it.
Visual Transport Modeller: pd-Green Edition
This is aimed at users who want to develop and monitor their green travel plans and who have no need of transport modelling functionality.
(1) MapPoint is either a registered trademark or a trademark of Microsoft Corporation in the United States and/or other countries. (2) ARCADY, PICADY and OSCADY are registered trademarks of the Transport Research Lab (TRL). (3) MapInfo is a registered trademark of MapInfo Corporation, Troy, New York. (4) ArcView is a trademark of ESRI.